Are You Ready to Ignite The Spark of Power, Health, Love and Joy?
Do You Want To Make Your Dreams a Reality, Anywhere You Start?
An old proverb says that if we want to find meaning in life, we can only find it in truth.
We can never find meaning, joy, and success in lies. Do you agree?
Don't delay your health.
Don't post-pone your joy.
Don't ignore your heart anymore.

By the end of this course, you will:
• Get rid of emotional pain, because pain shows up when you block your truth.
• Become free to live life on your own terms, regardless of the social environment.
• Make your dreams a reality, even if you start with nothing.
• You will love yourself, and maybe do so for the very first time.
When you live your truth, you act aligned with your mind and heart. Your body functions at optimal parameters, and your immune system is strengthened. You are serene because you don't have inner conflicts. You persist in learning, and you explore until you have the knowledge, and the experience required to succeed. You do the work. You are fulfilled by the process, and by the result. You flow toward your dream, rather than pushing against it. You have the grit to suffer through the brief difficulties that show up along the way. You become independent of the social pressure, and you think for yourself. You share your work with the world, and that makes it meaningful and rewarding. You are inspired to continue. Love flows through you, and you feel free. When you live your truth, you take risks because you know the cost of sacrificing who you are is far greater than losing money, friends, or other fleeting external possessions. You live in peace because you are fulfilling your heart's calling.
When you ignore your truth, the mind goes against the heart, and you act against your will. Your body is knocked out of balance, and your immune system is weakened. Eventually you fall ill. Your inner conflicts tear you down, you are exhausted, and burnt-out. Anger, anxiety, and depression are almost certain. You try everything―alcohol, drugs, sex, games―to avoid feeling the pain, but nothing works because truth cannot be denied. You don't care about your work, you don't share it with others, and that makes it meaningless. You get paid to do your job, but you don't see any point in what you're doing, and it feels like a waste of time. You hate the process, and you struggle only for the outcome and the weekend. You are not willing to risk anything to give your dreams a chance, and you claw to material possessions because you think they can remove the hollowness from your heart. When you ignore your truth, your mind and behaviors become prisoners of the social environment. You strive to please others, to fit in, and feel accepted. In spite of that, you still don't feel accepted, and not because others don't accept you, but because you haven't accepted yourself as you truly are. You can't stand being alone with yourself, and you feel an intolerable sense of emptiness because you have rejected the very part of yourself that gives meaning to your life- your heart. You live in fear because you are not fulfilling your calling.

According to scientific research, there are 900 million people who are unfulfilled, and don't care about what they do. They live in pain because they have dreams, but do not know how to make them a reality. This doesn't have to be this way. You can do something that gets you excited and makes you feel good about yourself and about life. I'm not being a rebel here, and I'm not in my middle age crisis, I just discovered that there is another way.

It's not necessarily about working from a beach, it's not about traveling the world, it's not about quitting everything and going to the end of the world to be a volunteer. It's about finding that thing that makes you excited about what you are doing, feeling peaceful and joyful, it's about finding your truth. This is where this course comes in. It helps you find your truth and work the skills and courage to make it a reality. What if today you stop just talking about it and you actually make a change?
Start today. Start here.
Join 550+ students from 55 nations studying together at The Amazing University.
Here's What You Will Get

1. The first and the most important step is to LIVE YOUR TRUTH. In the first part of this course, you will become FREE.
You will become free to be you, free to finally embrace your truth, your dreams, your passion and your purpose in life. And when you're free to be you, when you're free to dream as you want to dream and play big in the world, then you will develop the motivation, confidence, and passion to act and keep going. You will learn why many of the things you've done got you nowhere or even hurt you. You will stop doing what worked against you for so long and you will start doing only what's best for you.
2. You now got the confidence and passion to act, so you will learn the "nuts and bolts" of how to transform your dream into reality.
You will get the most scientifically proven leadership instruments in the world: NASA's leadership program. This system will guide you to apply the necessary steps to make your dream a reality. You will get the "map" to know where you are, what's working, what's not, and the exact thing you need to improve to reach your dreams faster. This information has been applied by thousands of NASA and Fortune 500 teams, in 75 countries during the last 17 years and it works with scientific accuracy. It will work for you guaranteed.
3. You have found meaning in life. You have the best tools in the world to make your dreams happen. Now let's prepare for the future. All books study the past, but you will have to live in the future. So let's prepare for the future.
We live in an exponential world, where half of the jobs will be automated in the next few years. You need to prepare for the future and you need to start right now. The opportunities are incredible and the world is far better than you think. In this part, you will discover why NOW is the best time in history to start working on your dreams. You will feel empowered to commit your life to living your truth, to working on your dreams, because hope took the place of fear, failure is very cheap and there are no more excuses. You have an abundance of opportunities waiting for you. Reach out now for them and live your truth.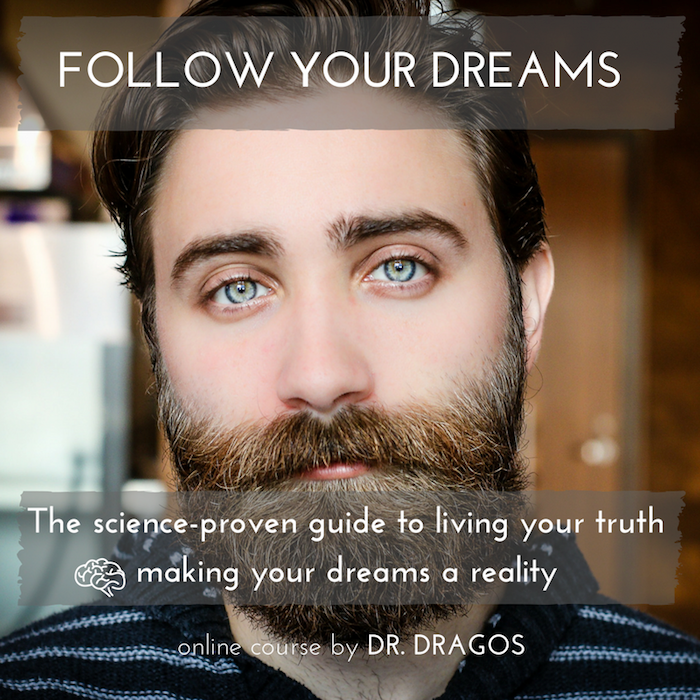 • People considering a career change.
• Aspiring entrepreneurs.
• Those stuck in wage slavery, unfulfilled in their job and looking for a way to be free.
• Those going through a mid-life crisis.
• Those who can't seem to find their place in this world and feel empty in their hearts.
• Leaders, managers, HR professionals who want to be authentically successful.
• Coaches and self-help students and leaders.
• Aspiring leaders who want to change the world.
• People like you, searching for a way to get from just "daydreaming" to actually "living it."
This Course Includes
• 45 highly engaging video lessons, powerful stories and immediately applicable knowledge.
• 3 special videos with NASA top leaders and New York Times bestselling author Gregg Braden.
• The leadership model that made thousands of NASA leaders and Fortune 500 companies wildly successful in the last 17 years.
• Real case studies and insights on how to overcome the invisible social forces driving your thinking, behaviors and results.
• My movie THE AMAZING YOU. THE AMAZING YOU is a breathtaking journey to personal fulfillment with NASA top leaders, Stanford University visionaries, Silicon Valley award winning entrepreneurs, New York Times bestselling authors, the founder of Angry Birds and rock stars. You will discover over 30 years of success knowledge that empowers you to create authentic success and fulfillment. You will never again have a broken heart because your dreams seem out of reach.
Now it's decision time.
Successful people, once they have all the facts, make the decision and take massive action.
Make this the first successful act of your new life. Live your truth.
Are you ready to ignite that spark inside you?
Take this course. It couldn't be any easier to get started and keep going.
Find Meaning in Life. Ignite The Spark Inside You. Make Your Dreams a Reality Anywhere You Are.
It Works with Proven, Scientific Accuracy.

DR. DRAGOS IS FEATURED IN